An Invisible Dance of Codes & Graphics
Development and UX Design are intertwined. One doesn't exist without the other.
In essence, UX design refers to both the aesthetic portion of the site and its overall user experience. Developers, on the other hand, take UX designs and actually build a functioning site from it using "codes" or programming languages to transform the designs into interactive components. It's the invisible dance that users catch a glimpse of from the moment they open a site—all the way to checkout.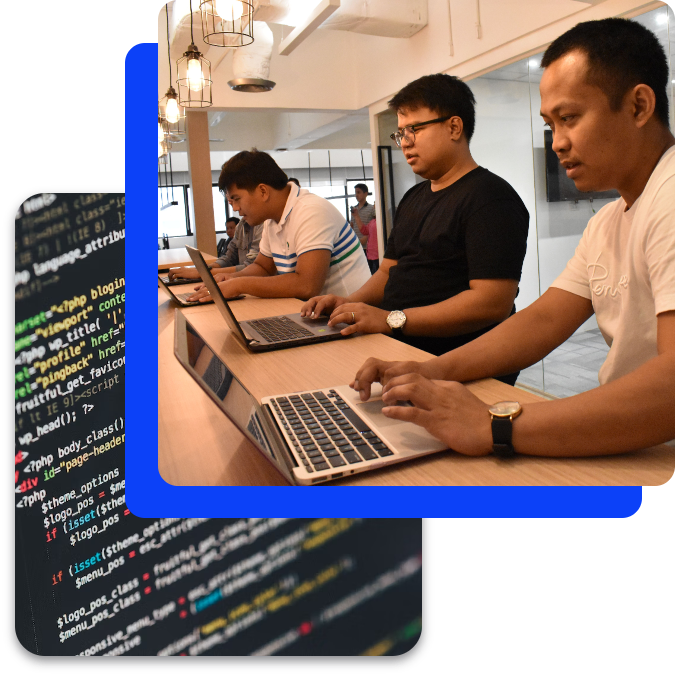 IT Developer
A developer writes the code to implement the UX design of a page or an entire site. A developer also builds and maintains databases and other tools required to operate the site.
Fundamentals
Functionality
Reliability
Ease of use
Interactivity
Skills Required
Analytical
Logical
Critical thinking
Tools Used






Designer
A designer creates the visual look and feel of the sites, from layout to graphics. A designer also assists with the navigation, usability, and overall user experience of a site.
Fundamentals
Simplicity
Visual impact
Consistency
User experience
Skills Required
Creative
Artistic
Resourceful
Tools Used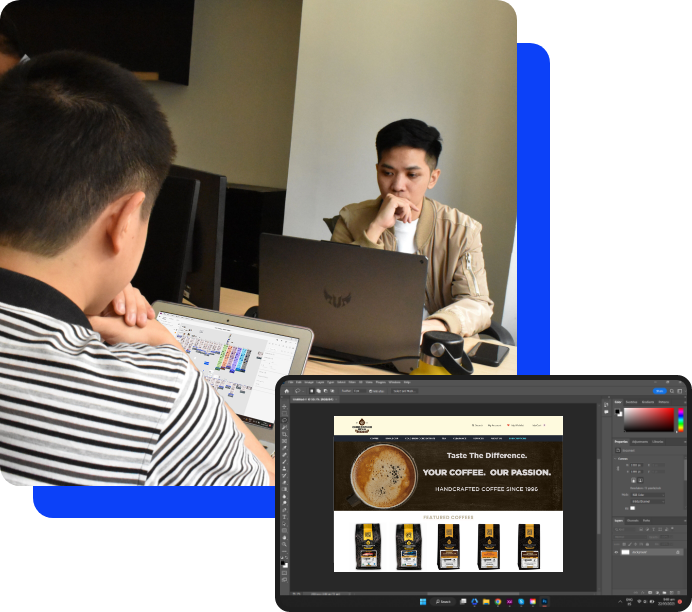 Did you know?
The average attention span of internet users has decreased from 12 to 8 seconds – shorter than a goldfish's which is 9 seconds.
To create an effective site, you need to develop and design a user experience that delivers your sales pitch in the shortest amount of time possible.
And that's what our developers and designers do.
To sum it up…
Always Open Commerce's Development & UX Design is functional, reliable, consistent, and simple
Always Open Commerce works with acclaimed industry leaders such as BigCommerce in providing the best e-commerce service possible
A dependable site architecture paired with consistent, no-nonsense UX is the key to achieving stellar conversion rates

BigCommerce Store Setup and Development
Here at AOC, our developers build and create the most intuitive store you can imagine. Our team of web experts will pick and customize a quality BigCommerce theme for your business, tweak it to achieve an impressive look and feel, and polish it for launching.

BigCommerce UX Design and Visual Communications
Working hand-in-hand with our ultra-savvy developers, AOC's UX Design team helps you manifest a visually stunning and aesthetically pleasing store. We design a site that captivates and stimulates, potentially increasing engagement, conversions, and sales.

BigCommerce Data and Store Migration Service
Included in AOC's BigCommerce Web Development Services is our provision and support for data and store migration. Our migration experts help move your old online store to the more robust BigCommerce platform. We ensure no data loss, downtime, or other risks.

BigCommerce Apps and Extensions Service
We usher businesses into the forefront of e-commerce technology by implementing web or mobile apps for BigCommerce. AOC also helps in modifying existing third-party extensions and plugins and integrating them into your online store for added functionality.

BigCommerce API Integration and Development
In addition to setting up your store, our extremely talented developers help in implementing API integrations. Our certified partnership with BigCommerce makes us one of the leading agencies that utilize API integrations to the fullest for better customization of your online store.

BigCommerce Custom Store Service
Realize your business' maximum potential by reflecting its ambition to your visible online store. AOC helps you with the complex customization of functionalities that BigCommerce has in store. Let your business stand out with exclusive apps, plugins, and other web features.

BigCommerce Site Maintenance and Support Service
To keep your online store evergreen and working properly, our support team makes periodic assessments of the whole site. We make sure that all bugs and glitches are properly troubleshot and that all pages are optimized to avoid site crashes during peak store hours.

BigCommerce Payments Integration Service
Most shoppers abandon their carts at the most critical point: checkout. This is due to difficulties or glitches that arise during payment. Our experts will help you build a secure, reliable, and hassle-free payment gateway that your customers will feel at ease using.

BigCommerce Store Performance Optimization
Witness the synergy between efficient web functionality and powerful content optimization for an even better and faster e-commerce experience. Our experts will evaluate your site and make necessary adjustments based on your personal or business needs.
Frequently Asked Questions
Always Open Commerce has been recognized as a BigCommerce partner and was among the Best of the Best BigCommerce Agencies in 2020. We have accumulated years of expertise in handling BigCommerce development projects in various industries ranging from B2C beverages to wholesale appliances and furniture. Our developers are well-trained in the platform including most third-party app integrations, theme development, and front-end/back-end support. Tangible evidence that proves our unquestionable competence in BigCommerce development can be observed in the successes of our clients as showcased in our portfolio.
Despite being a relatively newer platform, BigCommerce has attracted some of the world's biggest brands such as Sony, Ubisoft Gaming, Toyota Motors, Casio, and many more. These high-profile switches from older platforms can be credited to BigCommerce's in-built features and functionalities that make it easy for companies to operate a full-fledged store on a global scale.
Compatibility with all business types
Search engine-friendly for higher visibility
Powerful in-built marketing tools
Class-leading web security
Robust and thriving app marketplace
Unparalleled platform flexibility
Buzzing and active community support
Scalable according to your business size
Multichannel selling from the back end
Can sell anything under the sun
Like the Avengers, we have assembled a team of heroes: developers, designers, product data handlers, content writers, and SEO experts to create the best and most stunning online stores on the web. Included in our BigCommerce development services are:
BigCommerce Store Setup and Development
BigCommerce UX Design and Visual Communications
BigCommerce Data and Store Migration Service
BigCommerce Apps and Extensions Service
BigCommerce API Integration and Development
BigCommerce Custom Store Service
BigCommerce Site Maintenance and Support Service
BigCommerce Payments Integration Service
BigCommerce Store Performance Optimization
Definitely. Here at AOC, we follow a strict, rigid, and uncompromising business model that allows constant communication and complete transparency between us and our clients. Fundamentally, the assigned project manager will always be around to keep you in the loop and inform you about key updates on your project. Contact details will be provided during client onboarding.
Yes. Our more than capable UX designers can draft a single web page or an entire site for you – given the right project timeline. We can design your store from the ground up based on an assessment of your business needs, customers, industry, inventory, and other parameters. It is our goal to create a visually stunning, SEO-friendly, and responsive site that can accommodate your customers without any problems.
Get Started Today
We offer a risk free month trial for qualified new clients. No upfront payment required.